THE AMERICAN UNIVERSITY

FOR GLOBAL PEACE USA
www.augp.webs.com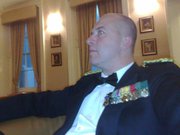 Dr.Dyn Parry, HMD, FFHMD,DHS, The Founder President Of International Blue Cross is Conferred with Doctorate Degree By His Eminence Dr. Madhu Krishan, The Founder & Chairman Of Academy Of Universal Global Peace (AUGP)
Dr. Dyn Parry's name was recommended by the Governing World Council Of AUGP Board Of Governors in recognization for his excellent commendable works for more than TwoDecades in the Area of  humanitarian medical, poverty relief, emergency response through his organisation that operates a 'Health4Humanity'program of projects and chapters around the world. 
Dr. Madhu Krishan also issued the AFFILIATION CERTIFICATE to The Esteemed  INTERNATIONAL BLUE CROSS(IBC) Which  comprises 1) a uniformed Blue Cross Corps, 2) a Faculty ofHumanitarian Medicines, 3) a sub-faculty; the Faculty of HumanitarianMedical Doctors, 4) H4H Chapters Fellowship, 5) Humanitarian MedicalOrder of Knight Hospitallers.
The International Blue Cross (IBC) and its 'Health4Humanity' program have a reciprocal affiliation and collaborate with the World Organisation forNatural Medicine (WONM) and its 'Clinics for Humanity' program,and its faculty associations the Faculty of Humanitarian Medics &Faculty of Humanitarian Medicine Doctors (FHMD) are affiliated withWONM's Universities of Humanitarian Medicine Federation besides its Affiliation with Academy Of Universal Global Peace (AUGP)
Dr. Dyn Parry is also unanimously Elected & Inducted  in the Governing  World Council Of AUGP as Intl. Governor .
Press Released By :-
Director (Admin)
AUGP.                                                            
Categories: None